Great Afternoon.
a 90 seconds for 90 days audio experiment.
M - F: 2:49 PM EST.
a CabsEverywhere™ Production
The idea was a daily radio series, like the Archers in the UK, only contemporary
and perhaps a bit absurdist, and at a time of day when people needed a break in their offices - right about the time you'd get an extra cup of coffee before heading to the meeting room . . .
Then suddenly there WERE NO OFFICES. No meeting rooms. Coffee was in everybody's kitchen.

But in this fresh age of rejuvenation and reinvention, a 90 second live show at 2:49PM seems to make just about as much sense as anything has in a very long time. Feasibility is now a gelatin-like substance, without border or rigidity; I'm taking advantage of that, to see what I can do with this.

The first 10 episodes are going to be a head start. No idea what I'm doing.
Later, there may be guests. There will be lots of music. Whatever it is, it's 90 seconds a day, and if you jump up and down while you're listening, at least you burn calories for your wearable tech.

Let's fill some rings. Great afternoon, everybody.
Jd Michaels
Season One. On the way. Summer 2021.
[This is a test file, and definitive proof that, at one point, I was a younger man.]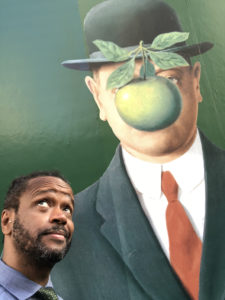 90 words = Jd Michaels
Great Afternoon is an experimental audio work from Jd Michaels; resident of Brooklyn, native of Kansas City, graduate of Yale University, proud Ravenclaw, mad scientist, Key Proprietor of The CabsEverywhere Creative Production House (an international collective of creative professionals who combine fine art, traditional crafts, and different technologies with a great big bowl of DIY to render imagination) and the distinguished-grey half of michaels.adams., where he and Casey Adams generate and produce original initiatives focused in education, identity, and community (and random fiction engineered to generate quizzical looks / hearty laughter).